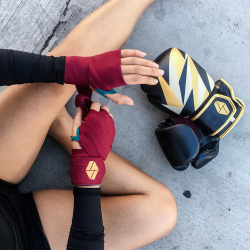 We are so excited to announce that we are now selling
Society Nine's
Bia Boxing Gloves! The badass owner of
Society Nine
, Lynn, created her company and products to empower women to get the most out of their combat sport training with gear that is actually made for women!

Here is some info on the Bia Boxing Glove...

Whats in a name:
Named for the Greek goddess of force and strength, the Bia ("bye-uh") Boxing Glove is at the core of
Society Nine's
mission to provide the best gear possible for the fight within every woman. Constructed utilizing a lightweight, premium leather and specialized foam, these gloves were developed to perform above and beyond expectations.
Key Features:
Premium leather construction
Low profile velcro stays put without snagging performance fabrics or scratching when you're in the clinch.
Ventilated mesh palm to help your glove dry faster.
Embossed logo
Shattered glass design, which is Society Nine's nod to those that broke barriers and paved the way for today's female fighters.

Sizing & Fit:
Society Nine's
Bia Boxing Gloves are designed to have a fit that is more narrow and shallow than a traditional boxing glove. To uncover this fit we spent over a year and a half utilizing the feedback, hand measurements and studying the striking patterns of over 100 female athletes. Through this research we found that reducing the depth and width of our gloves allows for a closer fit that prevents your hands from 'floating' when striking. The Bia Boxing Gloves can be worn with or without hand wraps to provide additional support and protection for your hands. The choice to wrap is yours.
Price:
$84.00 (auto-pay discount does not apply)
Society Nine is a great partnership for Knockout! We love their mission and both of us are working hard to empower women to be their best!
Do you need new gloves?
Unless you bought your current pair less than 6 months ago, I'm gonna say YES! Often Knockouts who beat that bag on the regular don't consider the need to continually investing in new gloves. Ladies your knuckles, wrists, elbows, hell your whole body is taking a beating with each punch; help lighten the blow by getting yourself some new quality gloves every 6-8 months. Just like shoes - the barrier between your body's impact/weight and the ground - which should be replaced every 6 months, your hands deserve the same investment. We aren't pounding the pavement; we are pounding the bag and pads and your body will thank you for the new, fresh cushioning to help protect it from all the impact! And please if you have had your initial pair of intro gloves for more than 6 months, gift yourself some higher quality gloves! Society Nine is a great glove...worth every penny!