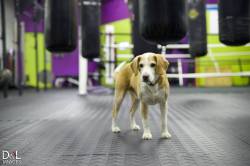 LOCAL WOMEN'S BOXING CLUB TO HOLD "BOXING FOR BEAGLES" ANTI-CRUELTY BENEFIT ON APRIL 15TH AND 16TH, 2016
Fifth annual fundraiser supporting animal advocacy group Beagle Freedom Project
[Westmont, IL –March 4, 2016] Knockout Women's Boxing Club (http://www.knockoutwomenboxing.com/) will host "Boxing for Beagles" a boxing workout fundraiser in support of Beagle Freedom Project on Friday, April 15th and Saturday, April 16th, 2016 at their Westmont boxing club. Event registration begins April 1st, 2016. Visit www.knockoutwomensboxing.com to register online or call 630-541-9988 to register and receive more details.


Knockout Women's Boxing Club owner Jessica Storch invites the public to participate in a beginner friendly boxing session in support of Beagle Freedom Project, and their efforts to eliminate the suffering of animals through rescue, public education and outreach. Beagle Freedom Project focuses on rescuing research Beagles because they are the most popular breed for lab use due to their friendly, docile, trusting, forgiving, people-pleasing personalities.


Participants can choose from the co-ed boxing workouts on Friday April 15th at 6:30 PM or 7:30 PM, or the women only boxing workouts on Saturday April 16th at 8:30am and 9:30am. Each class is 45 minutes and requires pre-registration. The cost is $20 with a portion of proceeds going to Beagle Freedom Project which provides retired dogs with veterinary care, transportation, micro-chipping, initial foster home assessment, and placement in a permanent home. Visit www.knockoutwomensboxing.com to register online or call 630-541-9988.


"When I think about my Beagle Champ (our gym mascot) enduring the kind of atrocities these animals are put through to test the daily products we use, it breaks my heart," Storch said. "I personally decided to go cruelty free when I discovered the amount of products that are being tested on animals."


Along with the 4 boxing workouts, there will be a charity raffle of human and pet related gifts from local stores and other generous donors. Knockout Women's Boxing Club invites the public to stop by even if they aren't participating in a workout to make a donation, or purchase raffle tickets. All raffle proceeds will be donated directly to Beagle Freedom Project and donors will be mentioned in all event promotions. If your business would like to donate goods, gift certificates or services please contact us at info@knockoutwomensboxing.com or (630) 541-9988. Donation deadline is April 1, 2016.