"This is the single biggest public health issue of our time!"

"In this society you have two choices as a young woman, you can either be fuckable or invisible."



Darryl Robers, producer of the incredible films
America the Beautiful 1: Is America Obsessed with Beauty?
&
America the Beautiful 2: The Thin Commandments
, has launched his final documentary in this series that is aimed at bringing awareness to how various industries in our culture are damaging women. As the owner and coach of a women's only boxing club I feel its my duty to share these films and this message and to create a place that fights against the disempowering, destructive messages women are subjected to. It pains me to hear women talk so horribly about themselves and believe their value is wrapped up in how pretty, sexy, thin, or hot they are. My goal has been and continues to be to empower women to be their best and forget about society's bullshit expectations of health and beauty. This documentary
America the Beautiful 3: The Sexualization of Our Youth
is a must see! We all need to come together to put an end to the madness in our society that is driving women away from their true strength and power.
What you can do to help:
1. Like the
America the Beautiful Facebook Page
!
2. Attend the
Chicago premiere
of
America the Beautiful 3: The Sexualization of Our Youth
with us Friday November 21st, 2014 at 7:00pm!
3. Read and share this
article
about Darryl on the ATB series
4. Watch and share
ATB1
and
ATB2
with the men, women, and young people in your life (both films are on Netflix)
5. As Darryl says use your voice, this has gotten out of the control and we can no longer be quiet about this issue!
Share this blog post & use your social media voice!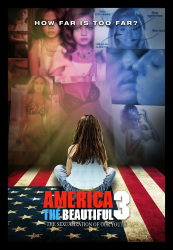 Film Synopsis from Trailer:

"America the Beautiful 3 explores the potential fallout from our youth living in an hyper-sexualized culture.
The assault of images portraying the perfect sexy body is inescapable and inappropriate, contributing to a national physical and mental health crisis. According to the American Psychological Association, the impact of this on girls and women of all ages range from eating disorders to low self-esteem and body image insecurities.
Set to an acoustic music score by Sir Kahil Elzabar and featuring vocals by Nona Hendricks, ATB 3 takes a harrowing look at how boys, some as young as 11 years old, are now raised in a porn culture making it is difficult for them to conceptualize healthy relationships and sexuality; the dangers of this are abundant and increasing."