I feel blessed to say that my ch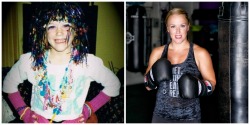 ildhood dream has become a reality. It's been a long bumpy road, but every setback has been more than worth it to see what I have created so far (
believe me world there is more to come
). September 24th, 2014 marks the 3 year anniversary of Knockout Women's Boxing Club and I am pretty pumped!
Three years ago, September 2011 was one of the most exciting and terrifying months of my life. I was leaving unhappiness and comfort for happiness and the unknown. I had always dreamed of creating a place that helped people and had somewhat manifested that before the birth of Knockout Women's Boxing Club, but I knew I wasn't there yet. It took loads of courage, self-trust, confidence, faith, purpose and passion to take a leap and make my dream come true.
I had a nagging feeling for years that turned into unavoidable sign after sign to branch out on my own and create what I always wanted. It would have been easier not to do or change a thing, but it that wasn't an option. The pain of staying where I was was greater than the fear of jumping into the unknown. When purpose and passion are guiding your way, you just have to take a leap of faith and that's what I did. (
now that said, anyone who knows me knows I did my homework leading up to this leap and had a plan, yes planning is also a key to success
)
I will never forget the opening day at Knockout Women's Boxing Club. I didn't know if zero people would show up to class or maybe 10, "yea 10 would be good". Well when you listen to your intuition and follow your heart, shit happens...day one I had 20 people in class and for some reason that let me know I'd be okay and made the right decision.

And from day one to today, Knockout Women's Boxing Club has been on a roll. Thriving, succeeding and helping women feel and be their best. Yes of course there are still highs and lows, slow times and crazy busy times, but in the end it all evens out and the result is year after year growth and success. The universe continually throws me curve balls to keep me on my toes and learning life and business lessons, but hey that's part of the game and I wouldn't have it any other way.
I think the key to my and my company's success is following my heart and leading with purpose and integrity. I 150% believe in my mission and genuinely care about the well being of all the women who walk through my doors. My gym is far from a get rich quick business model (
believe me I'm pretty much a one woman show
). I don't tell my members a bunch of BS just so they will join or stay. I am honest, sincere and care. Yes I need to make a living and I work hard, but I focus more on making a difference in the lives of my members then adding more zeros to my annual income.
I believe successful people care about money, yet care about people more. I find the more I focus my energy on helping others, the more prosperous I am. The more I challenge myself personally, the more rewards I reap in business, life and love. Success in all areas of our life comes from overcoming. We must overcome our fears, doubts, naysayers, self-limiting beliefs and ideas. To have the money, life, career and love you want, you must put yourself out there in a way that leaves you naked, vulnerable and a little freaked out.
Owning and operating Knockout Women's Boxing Club has forced me to look at myself and make personal changes. It has challenged me to set boundaries, trust myself and be patient. It has shown me that each of us can have an impact on one another. It has continually proven to me that we all can make a difference. I don't know if Knockout Global Domination will ever happen, but I do know that I can plant a seed and have an impact of my members while they are in my house. And my hope is that it will create a ripple effect, impacting their children, spouses, friends, etc. My goal to help generations to come be free of unrealistic health and beauty expectations and to be the best they can be.
When this little girl at age 8 told her family "When I grow up I want to have a place that helps people", she didn't know what it meant, but it never left her heart. So 34 years in the making...life, education, personal growth, risks, failures, successes, and more I am blessed to say my inner 8 year is pretty damn proud and grateful. My hope is that my story, my gym, my mission inspires others to never give up on their dreams, follow their heart and do good in the world. You may never realize the impact you are having on others, but I promise you you are and what you do in the world matters!
I am beyond grateful for my family, friends, boyfriend, Knockouts, sponsors and supporters (
oh and haters, lol, you help me realize I am doing something right
) dedication, encouragement, support, motivation, inspiration, and love throughout the years. I am proud to say that Knockout Women's Boxing Club is a safe place where women can come together, respect and support each other. So many of my Knockouts have found my club while going through trying times in their lives and being at Knockout has helped them through it in some small way. Every women at Knockout Women's Boxing Club is fighting her own fight, most of which I will never know, but if my club and I can provide 45 minutes of fun, stress relief, peace, freedom, release, whatever they need...I know I am doing my job! Life is too short to not do what you were put here to do!